Grace Varine Clements Irwin, age 90, of Houston, Texas, passed away Sunday afternoon, 12 November 2006, at a nursing home in Jacinto City, Texas. She had broken her hip three weeks earlier and had spent one-and-a-half weeks in the hospital before transitioning to short-term care at the nursing home. She was due to return home in another week.
"Nana" to her grandchildren, "Granny" to her great-grandchildren, Grace's family was her #1 priority and she enjoyed all of us.
Grace was born 25 or 26 November 1915 near Pauls Valley, Whitebead Township, Garvin County, Oklahoma, to Estes Pendleton Clements and Hattie Lee Bradbury. [Grace wasn't sure about the date, but knew that she was born around Thanksgiving, which fell on the 25th that year.]
Estes and Hattie had moved from Texas to Oklahoma in 1913 to farm. In late 1917, unsuccessful in farming, the family sold their land and moved back to Texas. Grace's brother Freddie was born in 1919, her sister Dorothy May in 1922. Estes began working as a teamster in the oil fields of West Texas (particularly Eastland and Stephens Counties) where the family lived out of a tent-covered wagon for several years. One of Grace's fond memories of this time was of the draft horses her father used, which had hooves as large as platters. She thought later that the horses must have been Clydesdales or Belgians.
Hattie died in 1923 in Breckinridge, Texas, along with a baby girl. Estes couldn't care for the children while working, so Grace and her siblings lived first with their mother's relatives in West, Texas, then with their father's relatives in Italy, Texas, before being placed at the Reynolds Presbyterian Orphanage in Vickery (near Dallas), Texas. Life at the orphanage was difficult but tolerable. The children were separated: Grace living in the girls' dormitory, Freddie at the boys' dormitory, and baby Dorothy (who was sickly) at a home for babies closer to the hospitals in Dallas. Grace and Freddie rarely saw Dorothy. Estes would come every once in a while to see the children, until he moved to California to find work. The children always hoped Estes would take them home with him, but he never did. Grace remembered having to line up every so often to be inspected by prospective parents. She was never chosen to be adopted. Years later, she discovered that her father had not terminated his parental rights, so the childen could not be adopted. Grace remained at the orphanage until she graduated from high school; Freddie eventually went to live with his Aunt Julia Overton in Tatum, Texas, where he graduated from high school. Dorothy suffered an accident as a toddler that caused her to leak fluid from her ears and be slow to learn -- she was placed in the care of the mental health authorities at a very young age, living in the state home at Mexia, Texas, for several years. Dorothy has been in state care most of her life -- the last time the family saw her was in the mid-1970s; we don't know whether she is living or deceased. If she is living, she would be 84 years old.
Grace graduated as valedictorian from Vickery High School in 1935. She went to live with her Aunt Bettie Lattner, who operated a funeral home in Mineral Wells, Texas, acting as a nurse to her aunt. Grace then attended nursing school at the University of Texas for one year before moving to Houston to work as a private nurse in 1938. In 1939, she married Fred Mendell Irwin (formerly Israelske) in Houston. They were blessed with three children: Fredrick Joseph, Sally Lucille and Sydney Kathleen.
Grace worked as a practical nurse for many years. From 1942 until Fred's death in 1977, the family lived in the Denver Harbor/Liberty Heights community of Houston. Grace continued to live there until 1982, when she moved to the unincorporated area of Sheldon (east of Houston) to be near her daughter Sally.
Grace was a proud descendant of the Barrow and Wallis families of Chambers County, Texas, and the Clements family of Union County, Kentucky, through her father, Estes Pendleton Clements. She was also a proud descendant of the Bradberry/Bradbury family of McLennan County, Texas, through her mother, Hattie Lee Bradbury.
Grace loved studying rocks and minerals - imparting this love to her grandchildren and great-grandchildren. She also enjoyed watching birds and gardening.
Grace was preceded in death by her parents, Estes and Hattie, husband, Fred, brother, Freddie, sister-in-law, Doris, and daughter, Sydney.
Grace is survived by daughter and son-in-law, Sally and Joe Buntyn, Houston, TX; son and daughter-in-law, Fredrick "Joe" and Beth Irwin, Mesa, AZ; son-in-law, Coy R. Hudson, Elmo, TX; grandchildren (and spouses): Scott Buntyn; Sara Buntyn (John T. White); Jaie Hudson, all of Houston, TX; B. Steven (Nikki) Buntyn, Spring, TX; Kelly (Travis) Wood, Hurst, TX; David (Traci) Irwin; James (Carleen) Irwin, all of Omaha, NE; Jon (Jaimie) Irwin, CA; step-grandchildren: Angela Gordon, Stephen Allen, Jonathan Allen, Bonnie Allen, Jeffrey Allen, Katie Allen, all of Mesa, AZ; great-grandchildren: Connor and Sionna White, Houston, TX; Stuart Wood, Hurst, TX; Chelsea and Matthew Irwin; Kirt Irwin, all of Omaha, NE; Aubrey Irwin, AZ; Kristin Irwin, Phoenix, AZ; Kyle and Cory Irwin, CA; one step-great-grandchild: Ashley Gordon, Mesa, AZ; the families of long-lost step-children in Washington; numerous cousins, nieces and nephews in California, Colorado, and Texas.
Pallbearers: Scott Buntyn, B. Steven Buntyn, John T. White, Keith Wilkerson, Justin Wilkerson and George Wilkerson.
Visitation with family: Wednesday, 15 November 2006, 3:00-8:00 p.m., Brookside Funeral Home, Houston, TX.
Funeral service: Thursday, 16 November 2006, 10:00 a.m., Brookside Funeral Home, Houston, TX. Interment to follow at Brookside Cemetery.
In lieu of flowers, please consider a donation in Grace's memory to the Presbyterian Children's Home and Services, or to the children's home of your choice.
Granny Grace with Connor and Stuart, October 2001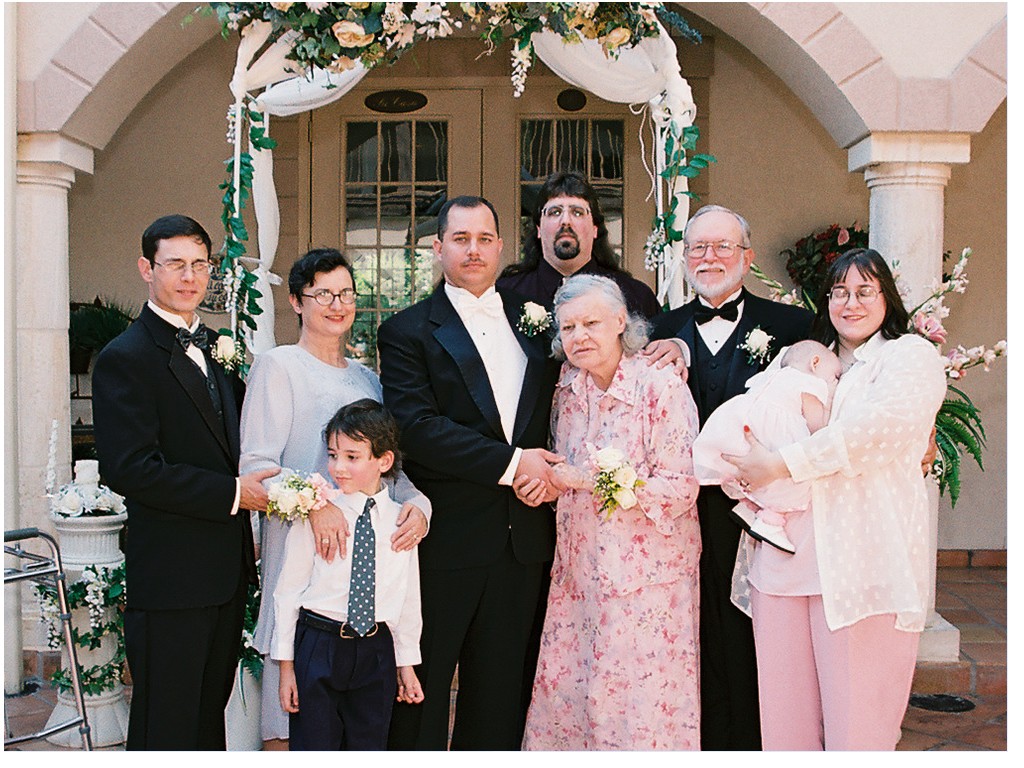 Grace with the Buntyn family at wedding of B. Steven and Nikki Buntyn, May 2004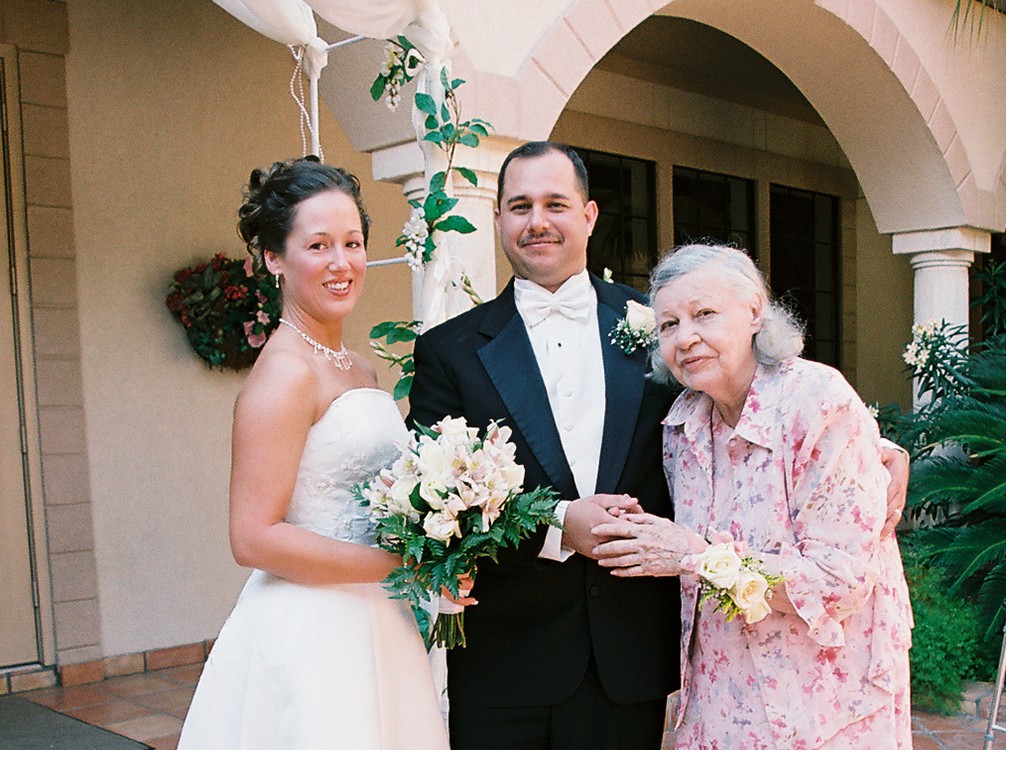 Grace with B. Steven and Nikki Buntyn, May 2004